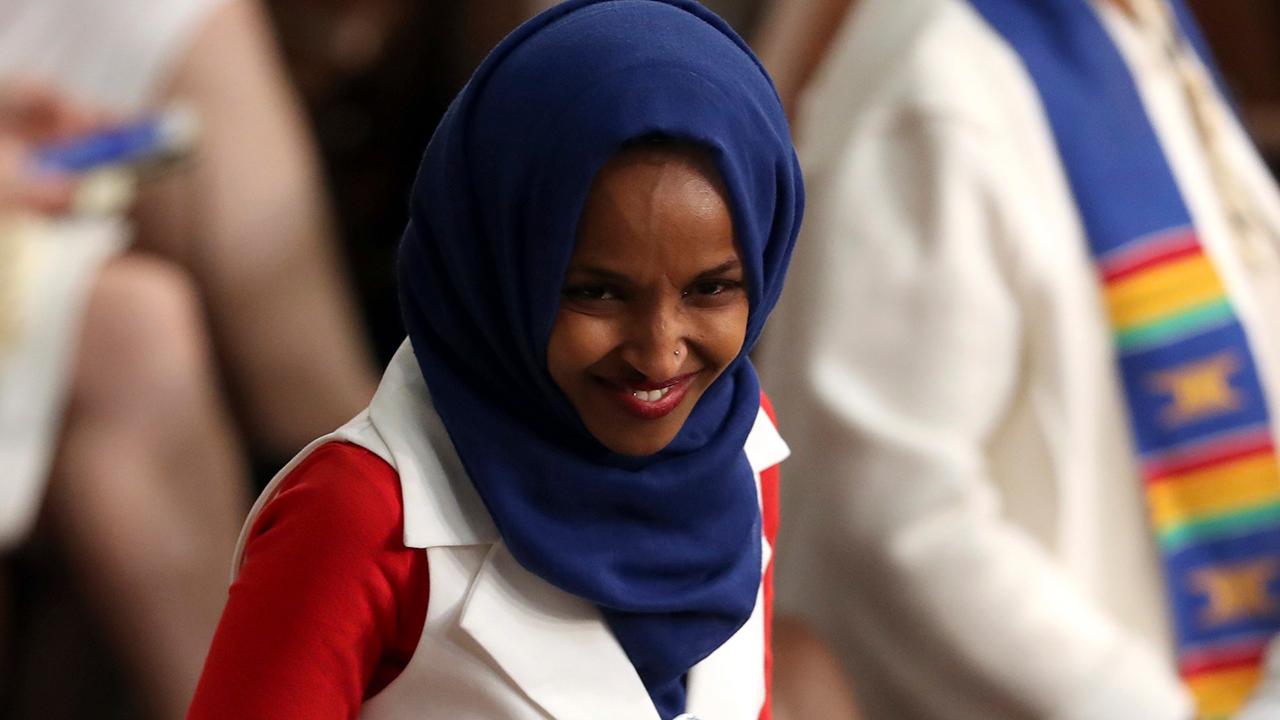 Freshman Congresswoman Ilhan Omar, D-Minn., stepped into the spotlight as she made history — alongside Michigan Democrat Rashida Tlaib — as the first Muslim woman elected to Congress in November. And since she was officially sworn-in, Omar has used her platform to voice her bold opinions, particularly on social media.
Omar has made a string of controversial statements in recent weeks that have sparked a backlash from members across both sides of the aisle.
On Monday, House Speaker Nancy Pelosi called on Omar to apologize for tweets suggesting members of Congress are being paid by American Israel Public Affairs Committee (AIPAC) to support Israel. AIPAC has vehemently denied the assertion.
ILHAN OMAR'S AIPAC TWEET SPARKS CONDEMNATION, INCLUDING FROM CHELSEA CLINTON
"Congresswoman Omar's use of anti-Semitic tropes and prejudicial accusations about Israel's supporters is deeply offensive," Pelosi said in a statement, which was also signed by other Democratic leaders. "We condemn these remarks and we call upon Congresswoman Omar to immediately apologize for these hurtful comments."
In response, Omar promised Pelosi, fellow lawmakers and voters that she is "listening and learning, but standing strong."
"Anti-Semitism is real and I am grateful for Jewish allies and colleagues who are educating me on the painful history of anti-Semitic tropes. My intention is never to offend my constituents or Jewish Americans as a whole," she wrote in a statement released online. "We have to always be willing to step back and think through criticism, just as I expect people to hear me when others attack me for my identity. This is why I unequivocally apologize."
However, Omar added she still "reaffirms" what she considers a "problematic role of lobbyists" in politics. She highlighted AIPAC, as well as the NRA and fossil fuel industry as particularly troubling.
"It's gone on too long and we must be willing to address it," she continued.
As Omar attempts to put this most recent controversy behind her, take a look at other contentious moments she's had since taking office.
"Not 1 dollar for DHS"
Omar called on members of her party to "stand their ground" against the Department of Homeland Security in a Feb. 8 tweet demanding "#Not1Dollar for DHS."
But after Fox News reported that she had called for cutting funding to DHS, she subsequently claimed her tweet had advocated a freeze in the DHS budget, not a cut.
"@RepPressley, @RepRashida, @RepAOC and I are calling for #not1dollar more in new funding for Trump's abuses under DHS," she wrote in a follow-up tweet two days later.
A "coup" in Venezuela?
As the U.S. officially recognized opposition leader Juan Guaido as the president of Venezuela amid an economic "crisis" under socialist leader Nicolás Maduro, Omar took to Twitter to claim President Trump was backing a "coup" in the country.
The comment came as tens of thousands of people marched the streets in protest of Maduro's rule.
"The citizens of Venezuela have suffered for too long at the hands of the illegitimate Maduro regime," Trump said as he endorsed Guaido, adding that he would work alongside the leader to "restore constitutional legitimacy."
ILHAN OMAR RETWEETS, DELETES POST ACCUSING HER OF ANTI-SEMITISM: REPORT
Omar said a "U.S.-backed coup" is "not a solution to the dire issues they face."
"Trump's efforts to install a far right opposition will only incite violence and further destabilize the region. We Must support Mexico, Uruguay, & the Vatican's efforts to facilitate a peaceful dialogue," she added
The remarks soon came under fire, as several slammed Omar for seemingly siding with Maduro.
Covington commentary
Omar deleted a tweet criticizing a group of Covington Catholic students for allegedly starting a confrontation at a rally in Washington, D.C. before more footage was released that offered more context to the story.
In mid-January, Omar replied to one of Trump's tweets defending Covington student Nick Sandmann and his peers who were in D.C. to attend the March for Life which happened to coincide with the Indigenous Peoples March in Washington. Omar argued the students were taunting black protesters, despite accounts to the contrary, and cited a videotaped comment about rape, though it's unclear whether it was one of the Covington students who said it.
"The boys were protesting a woman's right to choose & yelled 'it's not rape if you enjoy it' … They were taunting 5 Black men before they surrounded Phillips and led racist chants … Sandmann's family hired a right wing PR firm to write his non-apology," she wrote in the since-deleted tweet.
REP. ILHAN OMAR DELETES TWEET ATTACKING COVINGTON STUDENTS AFTER BACKLASH
But eventually, as an apparently unedited roughly 2-hour video surfaced, Omar took down the tweet.
The National Republican Congressional Committee (NRCC) slammed Omar for spreading fake news at the time.
"Rep. Omar is an embarrassment to Minnesota, and it's time for the rest of the Minnesota delegation to denounce her anti-Semitic views and support of hate groups," NRCC spokeswoman Carly Atchison told The Hill in a statement.
Lindsey Graham is "compromised"
Omar suggested Lindsey Graham, R-S.C., was blackmailed into supporting Trump's agenda in an early January tweet.
"They got to him, he is compromised!" Omar commented, sharing a video clip of Graham appearing on CNN. 
The comment came the same day that MSNBC anchor Stephanie Ruhle came under fire for implying that Graham was being blackmailed by Trump over "something pretty extreme," though neither Omar nor Ruhle provided any evidence to support such a bold claim.
Fox News' Frank Miles, Joseph A. Wulfsohn and The Associated Press contributed to this report.